Returns
Return your item(s) for just £4.99

Or exchange your item(s) for free
Something not quite right? With our Returns Portal you can return your items back to us for £4.99 and it's really straight forward too.
Simply click the 'Create Return' button below and follow the instructions to generate your return label, then print it at home or at your local Post Office (you might need to check with them that they have a printer in their branch). When your items arrive back with us in the warehouse, we'll deduct £4.99 from your refund... easy.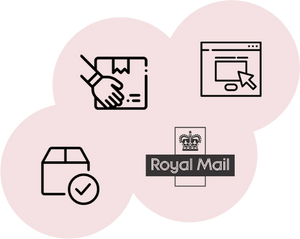 Our Return Policy
Having second thoughts on an item? You can return with us up to 14 days for either a refund, exchange or e-gift card funds.
A few little things to remember with returns: Apparel needs to be undamaged and in its original packaging with labels and tags still intact. We know you'll want to try it on and that's fine, just make sure your items are sent back with no signs of wear, including no evidence of deodorant marks, aftershaves, makeup or other marks and odours. For health and safety reasons sales on underwear and earrings are final.
Please note that until we've signed for your items in our warehouse, the goods are your responsibility. So make sure you've packaged them securely to avoid any damage in transit and that you've obtained proof of postage.
If you wish to return an item without using our tracked Return Service with Royal Mail, Please return the item(s) along with the completed returns form to:
EQVVS Returns
280-281 High Street
Lincoln
LN2 1JG

Exchanges
Love the item but the size just isn't quite right? No problem, we now offer free exchanges for the same product in a different size. Simply follow the instructions in the portal and opt for an exchange.

Faulty Items
Noticed a problem? If within 14 days you notice a fault with your item, you can create a return for your item in the portal for free. Simply select the faulty item option, upload a description and image and send the item back to us for inspection. Between 14 and 28 days, you can contact our friendly customer service team here and they'll get you sorted with a free returns label.
Exchange for a different size?
Love the item but the size just isn't quite right? No problem, we now offer free exchanges for the same product in a different size. Simply use the 'Create Exchange' link above to choose your exchange and generate a tracked return label with Royal Mail.
Once the return has arrived back with us and been processed, the new size will be sent out to the original delivery address. We'll even cover the cost of redelivery.
Please note, we can only exchange for the same product in a different size. If the size you've requested is out of stock at the time your return is processed, we'll issue a refund instead.
Refund to E-Gift Card
We also offer free returns if you choose to "refund to e-gift card". This is a great option if you'll be placing another order with us as e-Gift cards are available to spend immediately after the return has been processed. Your return will be refunded to an e-gift card that will be sent to your email address.
Please choose 'refund to e-Gift card' in the returns portal when creating your return.
Returning Online Order to our Stores
If it's more convenient for you to do so, online returns can be dropped off at our Lincoln Store. Refunds or exchanges will then be processed by our Online Team within 3 business days, they are not refunded or exchanged in store at the point of return.
Still have questions?
Visit our FAQ's page here