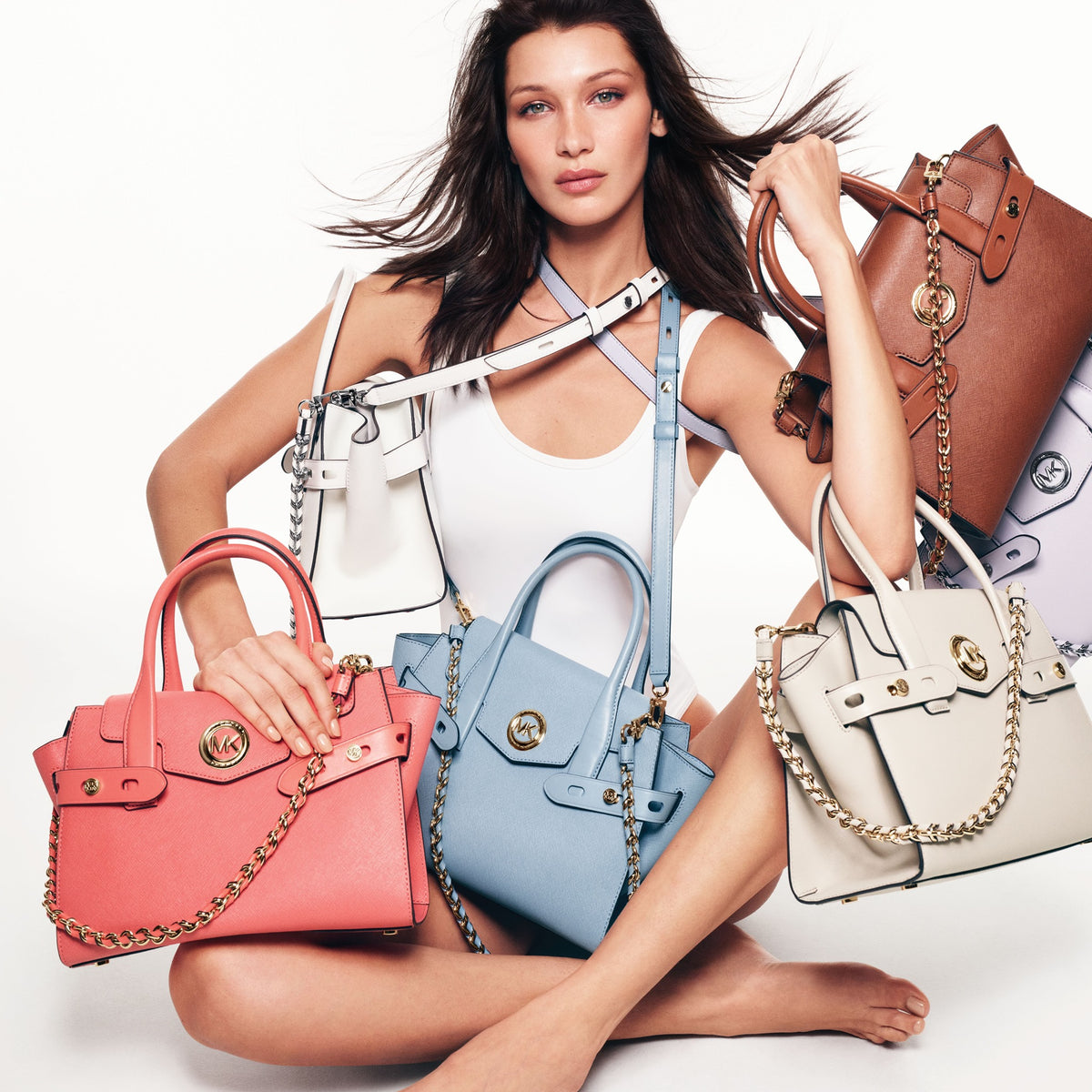 Bags for All Occasions: Our Top Ten Picks
Beth Fraser on Thu, Apr 16, 20
Okay, so right now we may not be in need of a stylish new bag, but we can dream, right? If you're in need of a pick me up, treating yourself to a stylish new bag for when the lockdown is all over could be just the thing. That's why we've put together our top bag picks that you can break out once things go back to normal – let's be honest, we all need an excuse to up the accessory game!
Ted Baker Women Nylahh Highland Nylon Backpack – £63.20
Backpacks are no longer just for school kids. In recent months they've become a firm favourite in the world of accessories. They're practical and stylish – what's not to love? One of our favourites right now is this Nylahh Highland Backpack by Ted Baker Women. Perfect for everyday, this gorgeous versatile backpack features a luxurious floral print in white and grey, making it a great option for pairing with every outfit.
Ted Baker Women Madyy Padlock Large Leather Tote – £183.20
If you're itching to get back into the office to catch up with your work besties, you'll be needing a stylish new work bag to complete your back to work look. Thankfully this Madyy Padlock Leather Tote by Ted Baker Women steps up to the plate. This luxury leather bag is roomy and fully lined with an internal zip pocket making it perfect for carrying those everyday essentials. Finished off with branded Ted Baker padlock to the front, this is one accessory you need in your life.
Valentino Handbags Carillon Quilted Velvet Clutch – £68
Think of all those nights out we'll be enjoying once this lockdown ends – you'll be needing a stylish clutch to go with it. This Carillon Quilted Clutch by Valentino Handbags is a great option for your next girls' night out, and the statement red will go perfectly with your LBD.
Guess Summer Night City Clutch – £48.30
If you're a lover of sparkle, this Summer Night City Clutch by Guess is the one for you. With intricate jewels on the front flap and a beautiful rose gold shade, this makes for a gorgeous addition to any outfit on your next night out. Roomy enough to store your phone and a bit of lippie, there's a multi function inner zip pouch to keep things safe, and this stunning clutch is finished off with metal Guess branding to the front.
Ted Baker Women Wendal Pergola Evening Bag – £55.20
We can still hold out hope that any weddings we have booked in for later in the year might still go ahead, and this Wendal Pergola Bag by Ted Baker Women is definitely one to finish your guest outfit. The fabulous floral design is perfect for summer and there's touches of light and fresh colours, making it a great option for pairing with a whole variety of colours. Complete with mirror detail and finished off with the classic Ted Baker bow, this wonderfully feminine bag is a must have.
Michael Kors Double Pouch Cross Body – £131.25
Any fashion lover needs a Michael Kors bag in their accessory collection, and we especially love this Double Pouch Cross Body in this fabulous sugary pink shade. Crafted with 100% leather and finished with gold tone detailing, along with plenty of pockets, this light and feminine bag will add a summery touch to any outfit.
Ted Baker Women Joaan Lady Bag – £122.85
For those who want to keep things simple but still stay on trend, this Joaan Lady Bag by Ted Baker Women is perfect for you. The sleek black leather is versatile and can make a wonderful addition to your workwear wardrobe, or just for your everyday look. Coming complete with detachable strap and magnetic front fastening, it can be worn to your taste all the while keeping your essentials safe.
Love Moschino Women Scarf Detail Shoulder Bag – £108.75
A stylish addition to your look for that first post-lockdown trip to the pub, this Scarf Detail Shoulder Bag by Love Moschino will bring a whole load of style to your 'jeans and a nice top' look. The tan colour is fresh and neutral while the scarf detail adds a little something extra. Finished off with iconic Love Moschino branding to the front, you'll be wanting to use this all year round.
Valentino Handbags Superman Backpack – £95.20
We're loving backpacks right now, and this Valentino Superman Backpack is one that just belongs in your accessories collection. Keeping things super simple with pebbled leather finish and understated Valentino branding, this is one that you can pair with your everyday look, your work look, or even for travelling – when this is all over, of course.
Ted Baker Women Deviee Pergola Nylon Backpack – £63.20
Finally, completing our line up we have this beautiful Deviee Pergola Backpack by Ted Baker Women. The perfect everyday bag for anyone who likes to add a pop of colour to their look, the gorgeous Pergola print is full of refreshing summer colours and will ensure you stand out, whatever the weather!
As we said, it may be awhile before we can get out and showcase those gorgeous handbags, but treating yourself to a brand new accessory you love is certainly one way to lift your spirits. Remember, we're running as usual here at EQVVS Women, so if you're in need of a fashion pick-me-up, we've got your back!

Written by Amy Jackson – Content Writer at My Favourite Voucher Codes – 16th April 2020
You may also like