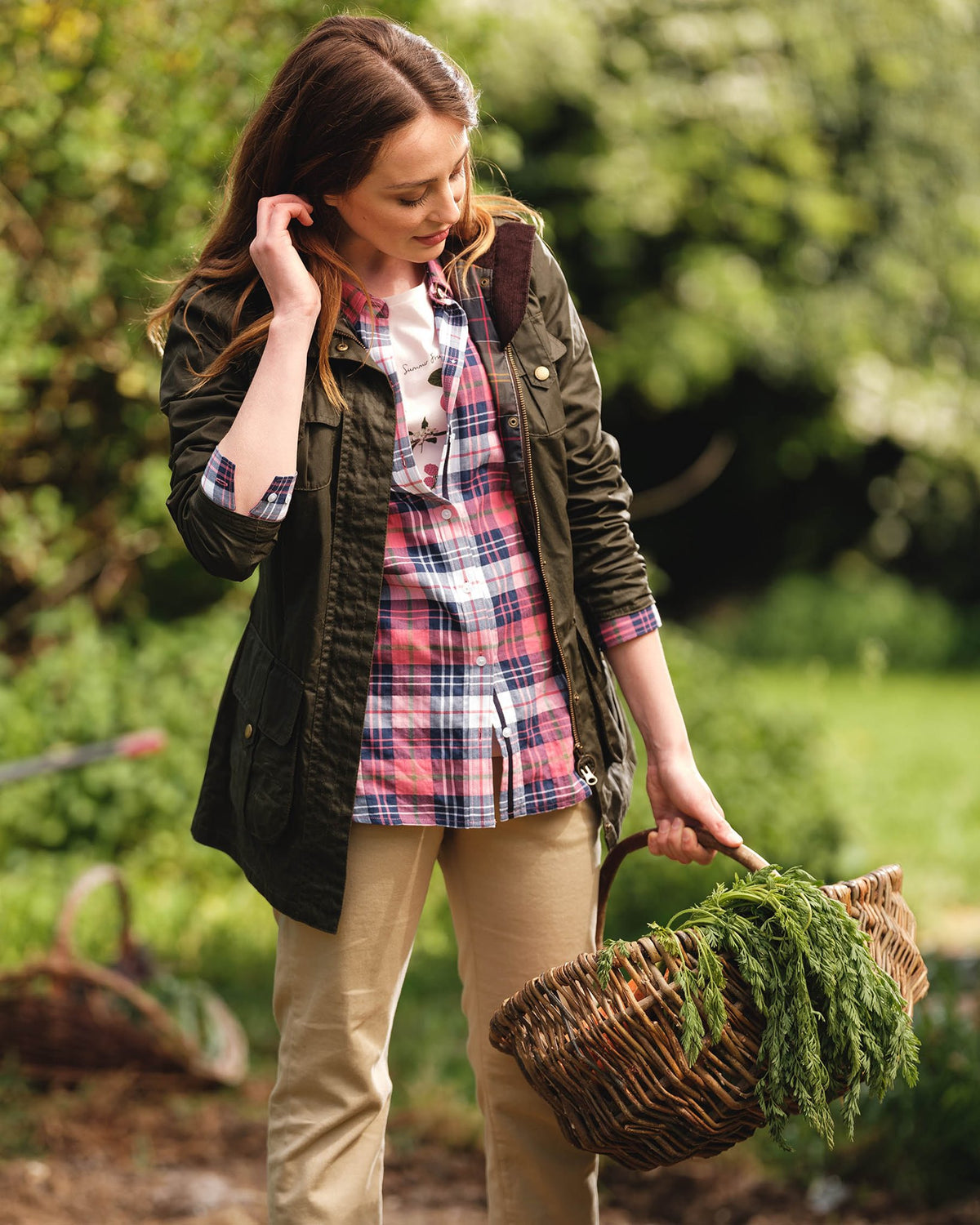 Casual Spring Looks for Your Everyday Wardrobe: Our Top Picks
Beth Fraser on Tue, Mar 31, 20
It's clear that at the moment, we may not be needing that gorgeous designer dress for those spring parties anytime soon. However, that doesn't mean we can't look stylish. At EQVVS Women we want our customers to feel stylish whatever they wear, which is why today we're looking at our favourite casual pieces that will fit in perfectly with your everyday wardrobe. Dress them up with your favourite jeans or dress them down with your favourite lounge pants, it's completely up to you.
Barbour Women International Rally Sweatshirt – £47.96
When it comes to keeping it casual, you can't go wrong with a classic sweatshirt. We love this simple but stylish piece by Barbour Women International as it's perfect for cosy days at home or as an extra layer with your favourite jeans. The grey marl shade is a perfect colour for spring, and there's some signature finishing touches such as the foil print logo to the chest and the silicon logo on the back of the neck – just because this isn't any ordinary sweatshirt.
Ted Baker Women Florele Tee Shirt – £39.20
As the weather hopefully starts to get warmer, it'll soon be time to bring out those everyday tees, and we especially love this daisy print tee from Ted Baker Women. This fitted tee is great for creating a sleek silhouette and can be dressed up with a blazer, jeans and ankle boots, or down with a comfy pair of lounge pants. The daisy print is great for adding a touch of spring fever, while the dark blue material keeps things balanced.
Calvin Klein Jeans Women Institutional Crew Sweatshirt – £59.25
Add a pop of colour to your wardrobe with this everyday staple from Calvin Klein Jeans. The soft crew neck makes it a great option for all tastes and the fitted design and subtle braining to the front add an extra stylish touch. We especially love this vibrant raspberry shade, but if pink isn't your colour, it's also available in red, sage or white. Pair with your favourite skinny jeans for an effortlessly cool and casual look.
Love Moschino Sleeve Logo Hoodie – £157.50
The perfect option for anyone who wants to make a statement, even when they're lounging, this Love Moschino hoodie is great for lazy days and keeping you feeling extra toasty. The single colour design keeps things simple, but combined with the statement Love Moschino branding to the sleeve, it makes a fabulous statement without even trying.
Barbour Women International Baton Wax Jacket – £199.20
Just because you're keeping things casual, it doesn't mean you can't enjoy a little luxury while you're doing it. Barbour is known for their high quality wax jackets, and this one is no exception. Stay warm when you're out and about (even if it's only for just a few minutes) and look amazing while doing it with this lightweight but hard wearing jacket. Equipped with zip fastening, storm flaps and plenty of pockets, this is definitely one for helping you battle the elements.
Calvin Klein Jeans Cropped Milano Jersey Hoodie – £52.50
If oversized hoodies aren't particularly your thing, perhaps this cropped jersey hoodie from Calvin Klein Jeans is more your taste. The iconic Calvin Klein taped logo to the hem combined with the bright and bold red colour creates a modern but timeless look, and is perfect if you're wanting to show off those abs.
Ted Baker Women Lylas Woodland Trainers – £79.20
Make a statement with your footwear by rocking these gorgeous woodland themed trainers by Ted Baker Women. The soft, pale pink is the perfect shade for spring while the floral woodland theme adds a gorgeously feminine finishing touch. Combine that with the signature metal T badge on the back heel, and you've got yourself a pair of trainers that will add a fresh feel to any outfit.
UGG Sammy Breeze Slip Ons – £68
Combine comfort and style with ease with these UGG Sammy Breeze slip-ons. The fresh pastel yellow is the perfect shade for getting you in the mood for spring, and the engineered knit upper is great for letting your feet breathe. Plus, engineered with a PORON and EVA Footbed inside, they'll provide plenty of comfort.
Michael Kors Rainbow Stripe Joggers – £75
If you're looking for a bright and fresh twist on the classic joggers, these rainbow striped ones from Michael Kors could be just the thing for you. The cuffed bottoms and elasticated waist make them great for lounging and comfort, but they can easily be dressed up by combining your favourite tee and sneakers for a laidback, everyday look. Plus, finished with the vibrant rainbow stripe detail down the side, there's a little pop of colour that sets them aside from your average joggers.
Emporio Armani Women Contrast Roll Neck Jumper – £74.50
Finally, another staple that belongs straight in your wardrobe is this sleek and simple roll neck jumper by Emporio Armani. The contrasting white neck and cuffs add a little something extra, as does the embroidered Armani badge at the bottom, and the slim fit will create a stylish silhouette. Combine with your favourite skinny jeans and you'll be good to go.
Whatever your go-to everyday style, we've got a whole array of stylish wardrobe staples for you to fall in love with here at EQVVS Women. If this has got you inspired, be sure to check out our selection of new arrivals regularly to discover the latest looks that will complete your spring wardrobe!
Written by Amy Jackson – Content Writer at Discount Promo Codes – 30th March 2020
You may also like