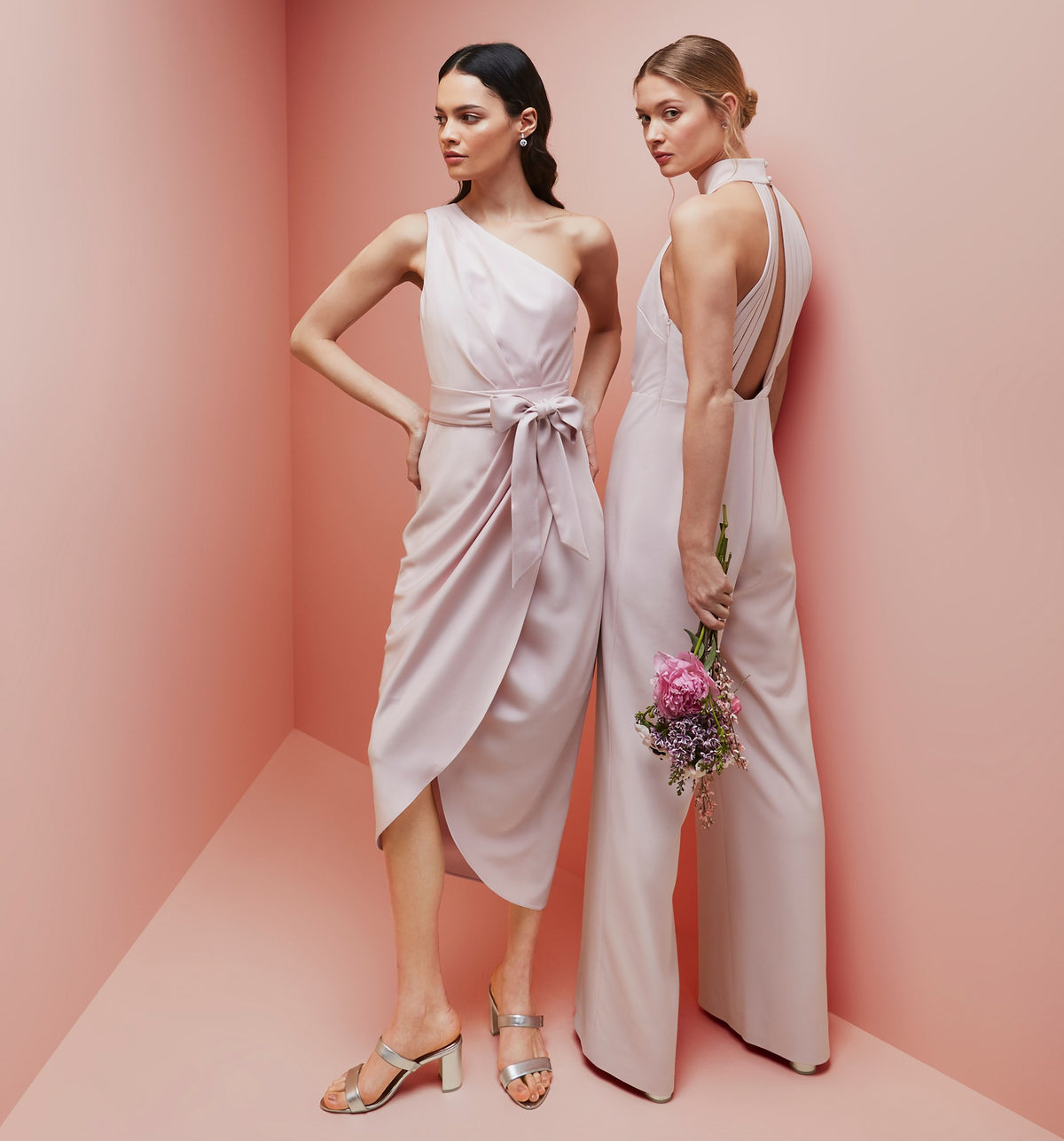 The Best Gifts for Your Bride Squad: Seven Special Bridesmaid Gifts They'll Love
Beth Fraser on Fri, Mar 27, 20
If you're a bride-to-be, things may be a little stressful right now with everything going on in the world. While we can't necessarily predict what's going to happen in the run up to your big day, we can certainly help you out by giving you a few things to focus on in the meantime, like the small things. In particular, one thing we can help you out with is your bridesmaid gifts. However many ladies will be featured in your bride squad, it's always important to acknowledge their contribution to your day with a little something. It can be difficult to know what to get your leading ladies, but here at EQVVS Women we've got your back. Not only do we stock a wonderful range of women's designer fashion from your favourite brands, we're also home to stylish jewellery and accessories too. So, if you're struggling to decide what gifts to give your bridal party, let us give you a little helping hand with our selection of bridesmaid gift ideas!
Clutch Bags
Clutch bags are always a great option for your bridesmaid gifts, as not only will they be a fashionable and unique memento of the day, they'll also come in handy too. You can coordinate them with bridesmaid dresses to really complete their look, and by going for something a little extra special, it's a wonderful way of letting your leading ladies know how much you love them. This Valentino Arpie Clutch (£59) is a fabulous choice, as not only is it lovely and roomy, but it comes with a chain strap too, making it perfect for dancing the night away! It's available in a selection of different colours too so we're betting that it'll be easy to find a shade that matches your colour scheme too.

Another popular choice is this Valentino Divina Clutch (£69) with stylish pebbled faux leather, finished off with the signature V tassel on the front. Plus, this one has a great selection of colours to choose from too, although we love this striking hot pink, which is perfect for a summer wedding!
Totes and Makeup Bags
Another popular choice that's regularly seen among bridesmaid gift ideas are beauty and shopper bags. These are a lovely option for your bride squad as they can be given out before the wedding so that they can bring their makeup and essentials to the venue while you all get ready together. Plus, getting your maids together with their matching accessories is a great photo opportunity for the bridal prep stage of your day! We love this Ted Baker Women Arycon Bow Detail Shopper (£29), which your leading ladies are sure to love. The sugary light purple shade is gorgeously feminine and the bow detail adds a stylish finishing touch. Plus, at only £29, it's a fab option if you're on a budget. This cute little bag is the perfect size for popping wedding prep essentials in as you all gather for hair and makeup, or if you're feeling a little on the extra side, you could even use this to put together a 'bridesmaid survival kit' or even a little thank you goody bag for your girls. Fill with a mini bottle of fizz, a small piece of jewellery, a thank you card and a few little personal tokens for each bridesmaid, and you've got a real unique gift!
If you're looking for another budget friendly bridesmaid gift, this Ted Baker Women Eulali Bow Detail Makeup Bag (£29) is also one of our favourites. Perfect for packing in all those beauty essentials, this fully lined Ted Baker makeup bag is finished with the signature bow detail to give a flirty and feminine twist. In this sleek black shade too, it will make a stylish addition to any handbag.
Earrings
Of course if you're looking at the more traditional bridesmaid thank you gifts, earrings are always a popular choice, and rightly so. Not only will they provide a subtle and elegant finishing touch to each bridesmaid's outfit, but your bridal party will be able to wear them in the future and have a special memento of the day. Earrings are much easier to coordinate with everyone's outfits too, and can be worn with pretty much any style of bridesmaid dress. 
A favourite of ours definitely has to be these adorable Harly Heart Studs by Ted Baker (£22), which will bring a little extra touch of elegance to your bridesmaids' look, but are still subtle enough to wear everyday in the future. The warm rose gold is likely to be a popular choice as we go into the summer, but if you want to colour coordinate right down to the last detail, they're also available in gold and silver too. Even better, for just £22, they're a great option if you have multiple 'maids to buy for.
If you're looking for something with a little extra sparkle, these Ted Baker Safire Crystal Shooting Star Earrings (£29) will fit the bill nicely. Thank your bridesmaids for being stars themselves with these cute, sparkling studs finished with Swarovski crystals. Again, you can also choose the colour to match your scheme too, as they're available in rose gold, pale gold, or silver. 
What if you're looking for something that you can tailor a little bit more to each individual bridesmaid? In that case, these Ted Baker Sinaa Crystal Stud Earrings (£29) will be a definite contender. These classic studs while still versatile enough to wear with any outfit are perfect for adding extra sparkle, and with a wide selection of colour combinations, it will mean you can pick each of your bridesmaids' favourite colours for a personal touch. Whether you go for the mysterious deep black or light and fresh mint gemstones, each pair is finished with Swarovski crystals and comes in a luxury Ted Baker branded pouch.
However you decide to show your appreciation for your bridal party, we hope we've given you plenty of ideas to get you started! We have a whole selection of gorgeous gifts from your favourite brands here at EQVVS Women, so make sure to browse our range of jewellery and accessories for even more fabulous bridesmaid gift ideas!

Written by Amy Jackson – Content Writer at Promo Codes For – 17th March 2020
You may also like